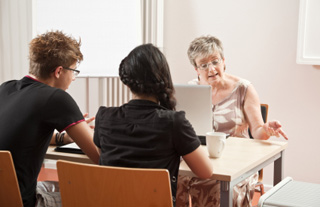 Our team of tutors consists of more than 100 dedicated professionals who love working with elementary and secondary students. While we cannot share all of our tutors' biographies here because of space limitations, we would like you to read about Nathalia who is a very good example of what you can expect from PD Plus tutors.
For your information, Nathalia has her Bachelor of Arts in Communications and History from SFU and has 10 years of tutoring experience. She assists students in English, social studies, writing and exam preparation for TOEFL, overall school support for ELL and native speakers of English and proper academic writing, citation and research for those who are university bound. Nathalia is extremely personable, outgoing, kind, smart, and accommodating; she has excellent communication skills, is organized, a great listener and cares for her students very much. Our students describe her as efficient, progressive, funny, and creative. Other references say she has such a colourful personality and she always plans each session, keeps track each week to ensure progress and she is also very quick to catch where the student needs improvement. Recently we heard from one of our parents of a gr. 12 English student and she said: "I must tell you that Nathalia is absolutely amazing, and my daughter just loves working with her!"
Owner and Director
Angela was raised in Montreal and attended a respected private girls' school where she was fortunate to have a positive educational experience. After graduating, she attended the University of Western Ontario where she received her Bachelor of Arts degree with a major in Economics. She has worked in the banking sector, print media and owned another successful business in the organic food industry. She also traveled the world, where she was fortunate to live and teach English in Japan for 6 months.
In 2000 she built on her experiences of teaching English by obtaining her Diploma in Education (TESOL) from UBC. After three years of successfully tutoring her students in West Vancouver, she could see that many needed more academic support, beyond ELL. She started PD Plus in the summer of 2003 and has loved helping students thrive within our communities ever since.
Angela says: "As a former tutor and ELL teacher, I found that when a supportive, encouraging rapport was established with my students it allowed trust to develop and the learning experience to be successful. At PD Plus we believe the tutoring experience should always be this way."
Co-Owner and Co-Director
Trinity was raised in Vancouver where she attended public school and often had many wonderful teachers. However, on occasion she experienced a teacher who she had difficulty learning from, so she understands the need to have a good tutor. Trinity has her Diploma in Life Skills Coaching/Counseling (L.S.T.C.) and her Bachelor of Fine Arts (Emily Carr University). Her first passion is teaching youth and adults through her course in applied problem solving/communications/relationship skills. She worked successfully in our school system as an Indigenous Life Skills Coach and Counselor and then business entrepreneur in the Metro Vancouver area and throughout BC, (on and off reserve). Additionally, she was the Coast-Metro Regional Coordinator for the Aboriginal Education Branch at the Ministry of Education, responsible for 14,000 students and staff.
She eventually left the field to pursue her second passion at Emily Carr, where she attained her Bachelor of Fine Arts. Fortunately for PD Plus she joined us early on as a tutor and then later became Co-owner and Director.
Trinity says, "After Emily Carr, my child was born; it felt like I received a promotion, to mother. This changed how I see and experience everything, including my work. In becoming part owner, I have the time, creativity and space to raise her but also share what I have learned with everyone at PD Plus and that's important to me."