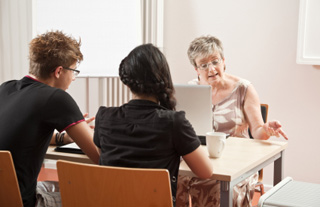 Our team of tutors consists of more than 100 dedicated professionals who love working with elementary, secondary and post secondary students. Please see some of our tutors' brief biographies and customer testimonials below.
Recently we heard from one of our parents of a gr. 12 English student and she said: "I must tell you that Nathalia is absolutely amazing, and my daughter just loves working with her!" For your information, Nathalia has her Bachelor of Arts in Communications and History from SFU and has 10 years of tutoring experience.
"Gary is an excellent tutor and a wise supporter when it comes to some tough times such as university enrollment. My daughter got accepted by the UBC Faculty of Engineering and both her marks and her self-assurance has changed for the better after she started working with Gary… he is an absolute super star." For your information, Gary has a Bachelor of Science as well as his Masters and PhD in Physics. He has 13 years of experience tutoring physics, chemistry, and math, including a lot of university, AP and IB students.
"He is an incredible tutor (meets kids where they're at and really encourages them)." For your information, Jeremy has a Bachelor of Arts (English Literature) from UBC and a Diploma of Technology (Architecture and Building Engineering) from BCIT. He has 18 years of experience tutoring.
Owner and Director
Angela was raised in Montreal and attended a respected private girls' school where she was fortunate to have a positive educational experience. After graduating, she attended the University of Western Ontario where she received her Bachelor of Arts degree with a major in Economics. She has worked in the banking sector, print media and owned another successful business in the organic food industry. She also traveled the world, where she was fortunate to live and teach English in Japan for 6 months.
In 2000 she built on her experiences of teaching English by obtaining her Diploma in Education (TESOL) from UBC. After three years of successfully tutoring her students in West Vancouver, she could see that many needed more academic support, beyond ELL. She started PD Plus in the summer of 2003 and has loved helping students thrive within our communities ever since.
Co-Owner and Director
Trinity was raised in Vancouver where she attended public school and often had many wonderful teachers. However, on occasion she experienced a teacher who she had difficulty learning from, so she understands the need to have a good tutor. Trinity has her Diploma in Life Skills Coaching/Counseling (L.S.T.C.) and her Bachelor of Fine Arts (Emily Carr University). Her first passion is teaching youth and adults through her course in applied problem solving/communications/ skills. She worked successfully in our school system as an Indigenous Life Skills Coach, Counselor, S.O.I. Advanced Trainer and then business entrepreneur in the Metro Vancouver area and throughout BC, (on and off reserve). Additionally, she was the Coast-Metro Regional Coordinator for the Aboriginal Education Branch at the Ministry of Education, responsible for 14,000 students and staff.
She eventually left the field to pursue her second passion at Emily Carr, where she attained her Bachelor of Fine Arts. Fortunately for PD Plus she couldn't stay away from education as she joined us as a tutor and then after becoming a mother, accepted the offer to become co-owner and director.