PD Plus provides in-home tutors for $40.00/hour.
Our mission at PD Plus is to provide you with an educational gift that will keep on giving. We understand that life can be stressful if a student is struggling academically or needs to maintain their grade to compete for entrance to their preferred post secondary institution.
We also know how great it can be when that student is feeling strong and self-confident. This is why we love to go the extra mile for you. It is rewarding knowing that we are helping students in our communities become more knowledgeable, skilled and happier…that our parents feel reassured and that our tutors feel valued and enjoy working with us. It is with a sense of pride and gratitude that we are in our 15th year of assisting our students.
What does PD Plus do for you as your tutoring service?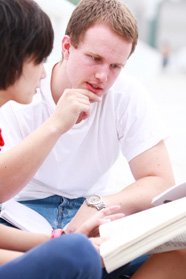 We personally interview each tutor to ensure they are the right fit for PD Plus. We also complete thorough reference and background checks (Vulnerable Sector Search only). All PD Plus tutors have a university degree, many having their Bachelor of Education, Masters or PhD. We only hire tutors with previous experience and ensure they are 100% proficient in their subject areas. (see Our Team).

Our tutors are available for all subjects from pre-K to grade 12 and beyond (see Subjects). Additionally, our tutors will travel to your home or nearest library/coffee shop throughout the GVRD: West Vancouver, North Vancouver, Vancouver, Burnaby, New Westminster, Port Coquitlam, Coquitlam, Port Moody, Surrey and Richmond. We respond to you on the same day and our time to find a match is usually 1-3 days.

You will have two conscientious and caring owners, along with a roster of bright tutors, dedicated to your child's or your success. We do it all: arrange schedules, manage our tutor with you, track our tutors' time in a secure website portal, ensure progress through tutorial planning and monthly progress reports, we take care of billing, and provide resources and substitutes when they're sick or away on holidays. We are an accredited BBB member in good standing. Our tutors are covered by WCB. We accept a variety of payment methods: Visa and MasterCard, Pre-authorized Debit or Interac, which is convenient. Our customer web portal is easy to use which shows the monthly Invoice-Receipt plus Tutorial Plan and monthly Progress Report. If you have a problem with our tutor - we handle it for you.
How do I get started?
Please contact us by phone (604) 421-6101, by e-mail at director@pdplustutors.com or fill out the online enrolment form so we can discuss your specific needs and tutoring goals. We will match you or your child with the right tutor; tutoring sessions can start immediately after.
We will call and e-mail to see how the first session went as well as evaluate our tutor and your child's progress throughout the school year. You can be sure that we are always a phone call or e-mail away if you need additional assistance.
Our Latest Blog
Post by admin: October 24, 2018
Does the sound of writing an academic essay sound overwhelming to you? It does to a lot of our students, so we have broken it down so it does not seem like such a scary task. Beginning with the following in mind, you can start brainstorming some ideas… then make sure it foll...