100 PD Plus tutors provide academic support for students of all levels (including AP and IB).
Math tutoring: Apprenticeship, Foundations, Math, Pre-calculus, Calculus
English tutoring: Communications, English First Peoples 10-12, English Language Arts K-12, English Literature 12, Writing 12, essay writing
Physics tutoring
Science tutoring
Chemistry tutoring
Biology tutoring
Social Studies
French tutoring: FSL and French Immersion
Spanish tutoring
Chinese tutoring: Mandarin
Provincial exam preparation
One-time or short-term tutoring sessions: study for exams, work on projects, prepare for presentations
Tutoring for ESL students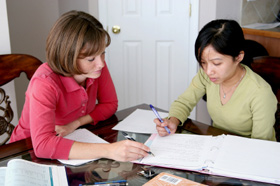 Our ESL tutors are well qualified and have years of experience assisting newcomers learn how to speak, read and write English. We have worked with people from all backgrounds, (Iranian, Chinese, Russian, Korean, Taiwanese, French.)
We help all ages: little 3 year old children preparing to enter pre-school, teenagers just arriving to Canada to start high school to young mothers and older people who want to improve their conversation skills.
ESL (English as a Second Language): grammar, writing skills, reading skills, vocabulary, spelling, listening, and conversation
TOEFL, IELTS preparation
Please contact us by phone (604) 421-6101 or by e-mail at director@pdplustutors.com so we can evaluate your tutoring needs and goals and then find the right tutor for you.