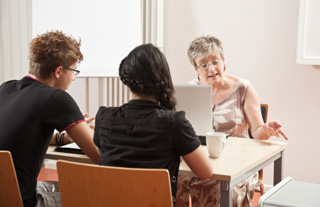 All of our tutors are carefully screened and interviewed - we also do thorough reference checks. Our tutors have excellent qualifications - many are B.C. certified teachers who tutor all subjects from k- grade 12. We also have tutors with degrees, Masters, and PhD's in English; science (physics, chemistry and biology); math; the social sciences; and tutors for foreign languages, including French, Spanish and Mandarin.

Our team of tutors consists of more than 100 dedicated professionals. We cannot tell you about all them as we do not have the space here, unfortunately. But we would like you to meet Karen, who is a very good example of what you can expect from PD Plus tutors.
For your information, Karen has two degrees: the first is a Bachelor of Science and the second is her Bachelor of Education. She has been successfully tutoring for over 12 years in math, English, chemistry, English, biology and physics. Karen also worked at the Learning Disabilities Association for 5 years, receiving training and experience teaching students with various disabilities. Karen is a kind, patient, and smart young woman as well as a good communicator. Additionally, she is very knowledgeable, dedicated, enthusiastic, patient, and her sense of humor is great. Her references say: Karen is "a dedicated educator, whose enthusiasm, patience and sense of humor help her to connect with her students and foster trusting relationship with them."
Owner and Director
Angela was born and raised in Montreal and attended a respected private girls' school. She was fortunate that her educational experience was very positive. After graduating, she attended the University of Western Ontario where she received her Bachelor of Arts degree with a major in Economics in 1988. Her career has taken her across Canada; initially working in the banking sector in Toronto and then in print media.
In 2000 she decided to build on her experiences of teaching English in Japan by obtaining her Diploma in Education (TESOL) from UBC. After three years of private tutoring in West Vancouver, she started PD Plus in the fall of 2003 and still loves helping students thrive within our communities.
Angela writes: "As a former tutor and ESL teacher, I found that when a supportive, encouraging rapport was established with my students it allowed trust to develop and the learning experience to be successful. As a student at Trafalgar School for Girls in Montreal, I know that when my teachers were like this with me, it really did inspire me to work harder. At PD Plus we believe the tutoring experience should always be this way"
Co-Owner and Co-Director
Trinity is from Vancouver. She has her Diploma in Life Skills Coaching/Counseling (L.S.T.C.) and her Bachelor of Fine Arts (Emily Carr University). She was a successful counselor, educator and administrator for over 20 years in her own consulting business.
She worked throughout western Canada and in the Lower Mainland for decades. Additionally, she was the Coast-Metro Regional Coordinator for the Aboriginal Education Branch, Ministry of Education responsible for 11 school districts within the GVRD (14,000 students and staff.)
She is currently Co-owner and Co-Director of PD Plus. When she is not helping our students, parents and tutors, she is a busy mother, photographer and Coach.